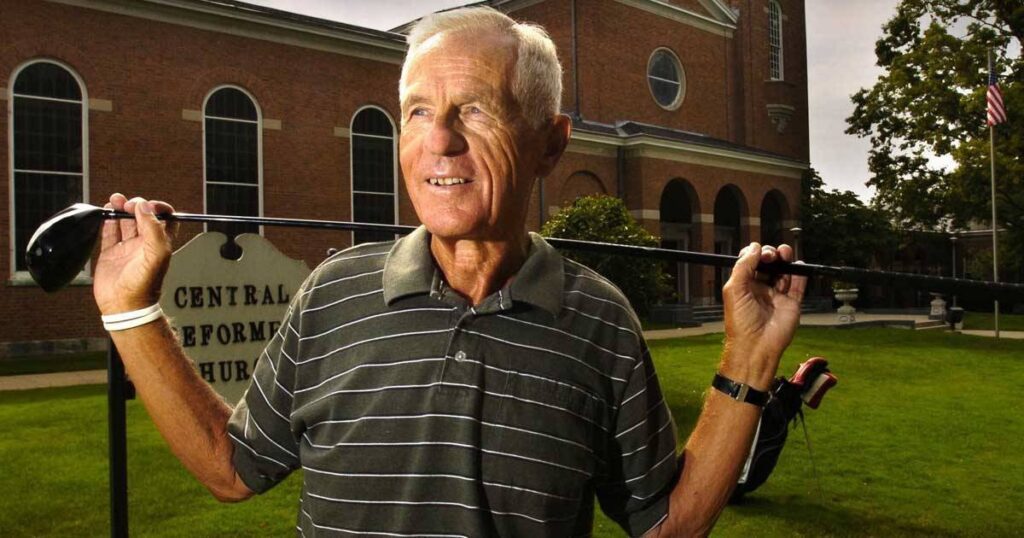 We learned of the passing of Jack Van Ess in the days leading up to the Michigan Golf Hall of Fame inductions of 2021 last Sunday.
The local golf legend from Grand Rapids – Mr. Never Golf on Sunday as a promise to his father even when it meant withdrawing from tournaments as the leader – Jack took his heavenly putting stroke and warm, friendly personality home.
He was 94, and that was never his score.
"Jack was the best putter I've ever seen, including pros, anywhere, ever," said Randy Lewis, a fellow Michigan Golf Hall of Famer from Alma.
John O'Donovan of Grand Rapids, a friend, fellow Egypt Valley Country Club member and a president emeritus of the Golf Association of Michigan, was instrumental in Van Ess being elected to both the Michigan Golf Hall of Fame and the Grand Rapids Sports Hall of Fame.
"He was an incredible person, everybody's friend," O'Donovan said. "And he was an amazing golfer, one of the most talented golfers Grand Rapids or Michigan has ever seen."
Everybody knew Jack it seemed. Once in Florida I was paired up with a trio of older guys with great golf swings on the first tee. I remarked: "You guys are players, where are you from?"
They said yes, they played a little golf and offered up three different states of origin. I told them I'm from Grand Rapids, Michigan, and I'm not in your league.
They all responded at once: "Do you know Jack Van Ess?"
Jack may be the most unusual of all the members of the Michigan Golf Hall of Fame because he only played in tournaments that ended on six days of the week, and yet he had a sterling career.
He was the first to win Michigan Senior Open and Michigan Senior Amateur titles. He won the Dale Morey Society of Seniors event in South Carolina and World Super Seniors 80-and-over title in North Carolina. He won the club championship at Egypt Valley 10 times over four decades.
He also played in the U.S. Amateur, the North and South Amateur at Pinehurst, the Western Amateur, the U.S. Senior Amateur and the U.S. Senior Open in Minnesota. He led Western Michigan Golf Association tournaments five times going into Sunday and then withdrew. Never on Sunday.
His biggest Golf Association of Michigan moment came in the 1976 Michigan Amateur at Belvedere Golf Club in Charlevoix.
Mount Pleasant's Dan Pohl had won the 1975 state title and was expected to win again when he ran into Van Ess in the second round. It was classic Pohl the bomber headed for the PGA Tour against the little guy with the smooth putting stroke who never played on Sunday. Van Ess won 3 and 2. Pohl came back the next year and won the '77 Amateur.
Jack went on playing, mostly at his home club, but around the country as a senior making putts and making friends. Rest in peace Jack. We have one of your hickory-shafted putters at the Hall of Fame and we will take care of it.
-Greg Johnson
Click here for the link to his obituary.