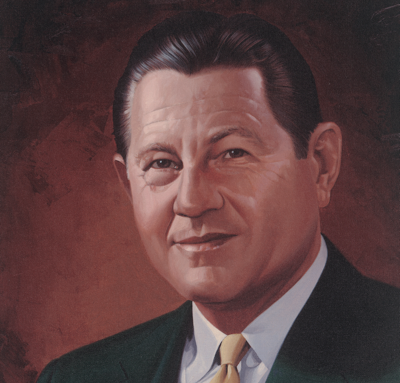 Horton Smith won the 1934 Masters Tournament, the very first Masters, and also won the third. He is also credited with being the first professional to truly study the putting stroke to gain an advantage on opponents, and his name has become synonymous with golf education.
The Missouri native won 32 times on the PGA Tour between 1928 and '41, including his only two majors in the Masters (1934, '36). He was part of five Ryder Cup teams, including the 1929 U.S. team that included fellow Michigan Golf Hall of Fame members Walter Hagen, Leo Diegel and Al Watrous.
He served a non-combat role in the U.S. Army during World War II, and he became the head professional at Detroit Golf Club in 1946 and worked there until his death in 1963 at the age of 55 from Hodgkin's disease. He was just the second head professional at Detroit GC replacing Michigan Golf Hall of Fame member Alexander Ross, the brother of legendary golf course architect Donald Ross.
Smith played in every Masters from 1934 to '63, though he was retired from the tour and devoted to Detroit GC where he is remembered as a stoic man and fine teacher of the game. He also competed at times in Michigan PGA Section tournaments and won the 1948 Michigan PGA Professional Championship and the 1952 Michigan Open Championship.
In 1962 he received the Bob Jones Award from the United States Golf Association in recognition of distinguished sportsmanship. He was president of the PGA of America from 1952 to '54. The PGA of America and its many state sections annually grant the Horton Smith Award to a PGA professional who has made outstanding and continuing contributions to golf education.
In September of 2013 his green jacket, which was awarded for his Masters wins, was sold at auction by relatives for over $682,000, which at the time was believed to be the most ever paid for golf memorabilia. Smith is also a member of the World Golf Hall of Fame.
Year inducted: 1983